Giovanni Visetti
Environmental and hiking guide
tailor-made hikes from 1 to 30 miles
---
With extensive guide experience, years of worldwide travel adventures, and diverse and accomplished athletic endeavors it is simply difficult to imagine that Giovanni does anything "briefly."
Originally from Naples, Giovanni's formal education emphasized mathematics and economics, following which he sailed the world for 3 years as a merchant marine. He has traveled extensively in Europe, Asia and Americas (including two long stays in the U.S.) for almost 40 years.
Giovanni is an author, writing books on demo-ethnology as well as the toponymy of the Sorrento and Amalfi Coast. He also wrote for a major Neapolitan newspaper about excursions by kayak and on foot.
...But there is another side to the Amalfi Peninsula. Away from the road is a network of footpaths which thread through the steep limestone peaks of the peninsula's spine. Some are marked on the 1:25.000 maps; others can be only found by searching for the darker vein of a track on a hillside. A number of these paths have been linked together to form an eight-day walk from one end of the peninsula to the other. The route is identified by red and white dashes painted on trees and rocks. Giovanni Visetti knows this route better than most. He left Naples as a teenager and joined the Merchant Navy, visiting Brazil, Mexico, the USA, South America and Southeast Asia. He has now returned home and devotes his time to the Amalfi peninsula. So detailed is Visetti's knowledge of Massa Lubrense that the local council recently asked him to compile a catalogue and map of public footpaths.
We met Visetti at the village of Colli di Fontanelle.
He is fit, intense and knowledgeable. During a long day, we walked the final section on a succession of footpaths which wove downwards towards the rocks of Punta Campanella. The path stayed high, straying over an occasional summit which provided views north to Naples and the cone of Vesuvius, and south across the Bay of Salerno. Off shore, we could see the black shark-fin profiles of the Galli islands.
Between the neat stone terraces of olive trees sprouted the arms of prickly pear cacti. About our feet grew clumps of heather and genista, whose blue berries are used to make a liqueur called mirto. Leaving the village of Torca on an unusually well-kept path, Visetti explained that for decades this has been used by three brothers who have walked barefoot daily from Torca to their fishing boats 300m down the cliff. The eldest of the brothers, 'o Surdo (The Deaf), was still making the hike at the age of 86. Walking the Amalfi coast, you'll pass 50 watchtowers. In medieval times they were used to warn of approaching enemy vessels. There is a tower at Punta Campanella, currently being restored by stonemasons. Beside it stands the stump of the old brick lighthouse, which exploded in the 1960s, after a gas leak. Beside the tower, we crossed a section of Roman pavement and traces of a Roman wall. Beyond the rocks, the island of Capri floated on a raft of salty haze. Didn't this glorious place become crowded in the summer? Visetti shook his head: "No, you see you must walk to reach this place."
from the article Out on a limb
by Nicholas Crane (World Magazine, 1991)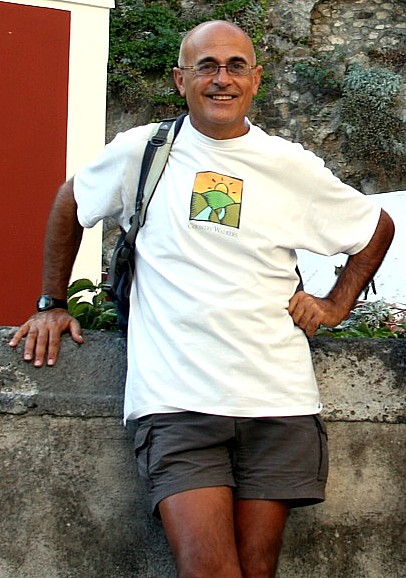 After over 20 years of activity I have decided to hang up my "gloves" and end my routine work as a hiking guide.
I will however keep on walking and hiking (maybe even more so than in the past) and being available to give support and information to any scholar, scientist (botanist, archaeologist, ornithologist, ...) or professional (photographer or journalist) who may need my assistance.
---
Explore with the Experts
The simple truth of the matter is you can have the best accommodation and the best food, but without the best leaders, you don't have a trip.
A BCT leader is like having a well-connected friend. They are in the right place at exactly the right time and they are more than willing to invite you to come along and share in their adventure.
Making a good trip a great trip is no small feat, and we recognize the wonderful array of talents our leaders have in being able to accomplish this feat over and over again. We choose our leaders not only for their expertise and knowledge, but also for their wonderful sense of humor, good nature, enthusiasm and their incredible ability to bring everything to life. They are in a class of their own.
(from B.C.T. 1998 catalog)
---
In addition to producing both tourist and orienteering maps, he works on projects to develop the network of trails; he also teaches orienteering, cartography and hike guiding. Besides this website, Giovanni created www.meditflora.com (with about 2000 photos of over 350 species of Mediterranean flowers and plants) with a section dedicated just to the local wild orchids.
---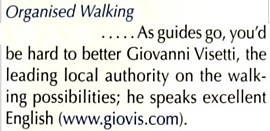 from Walking on the Amalfi Coast,
by Gillian Price (CICERONE guidebook)
---
Italy Beyond The Obvious
If you prefer to hike any of these with a guide, I highly recommend Giovanni Visetti. Use the detailed route instructions and elevation maps on his website, or hire him as a private guide.
---
www.tremyfoel.co.uk/sorrento.htm
Ah maps! Well the trouble is that for those of us used to the OS or French/Swiss maps, Italian maps are, in a word, rubbish! The best topographic maps on offer are the 1:30,000 CAI and the 1:25,000 "carta touristico informatica" for Monti Lattari, both with 25m contours. The topographic base seems accurate but with such an interval obviously lacks detail and both lack clarity. Worse, the depiction of the trails cannot be relied on.
However for this particular walk salvation is at hand (as I belatedly discovered) in the form of a 1:12,500 map segment produced by local cartographer and guide Giovanni Visetti on which the trails at least are admirably clear and accurate.
---
.... we happened to visit the information office on the day they received their first supplies of your excellent new map. We used this quite a bit during the week. We also saw the new ceramic plaques everywhere making us realise what a lot of hard work has gone into the network - congratulations.
Thanks for all your great efforts.
J. T. - Member of Outdoor Writers' guild
---
We would like to thank you for the excellent new map you have brought out and easy to follow colour-coding which has made your beautiful hills such a delight. This is the ninthyear that we have torna Surriento just for the walks.
The previous maps have been good but this new edition is clear and easy to follow and the markings along the way are excellent.
D. & B. N.